Examples other sites
Nottingham RSS feed

A feed containing all the public learning objects from Xerte Online Toolkits.

Xerte examples

Bookmarks tagged Xerte examples by Ron Mitchell

YouTube video's

Xerte screencasts and related videos arround Xerte/ XOT by Ron Mitchell.
Support different disabilities (1)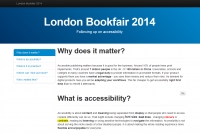 How do you convey a lot of information in an easy to understand way to a group of very busy people at an international Bookfair?