New features
Translate Xerte?
Now you can with XerteTrans. This email address is being protected from spambots. You need JavaScript enabled to view it. us for more information.
Xerte also available in HTML5
News
A sustainable project
Details

Published on Wednesday, 27 May 2015 18:06
Written by super admin
Hits: 22620

In 2014 the developer team explored the question of sustainability, and after carefully weighing up all the options, the software was put forward and accepted for incubation by the Apereo Foundation in September 2014. As the software has developed, and the community of developers has grown, the share of the work being done by the University of Nottingham has fallen and significant pieces of work from other individuals and organisations have been contributed to the project's codebase. Transitioning the software to the Apereo Foundation reflects the ongoing growth of the community and maturity of the software, and removes a number of barriers to adoption for potential users. It removes a single point of failure for the project by placing ownership firmly with the developer community, and brings a more robust framework of governance and decision making to the developers.
We are really excited about the transition to Apereo.

Xerte Online Toolkits Webinar
Details

Published on Wednesday, 08 April 2015 20:51
Written by Inge Donkervoort
Hits: 2856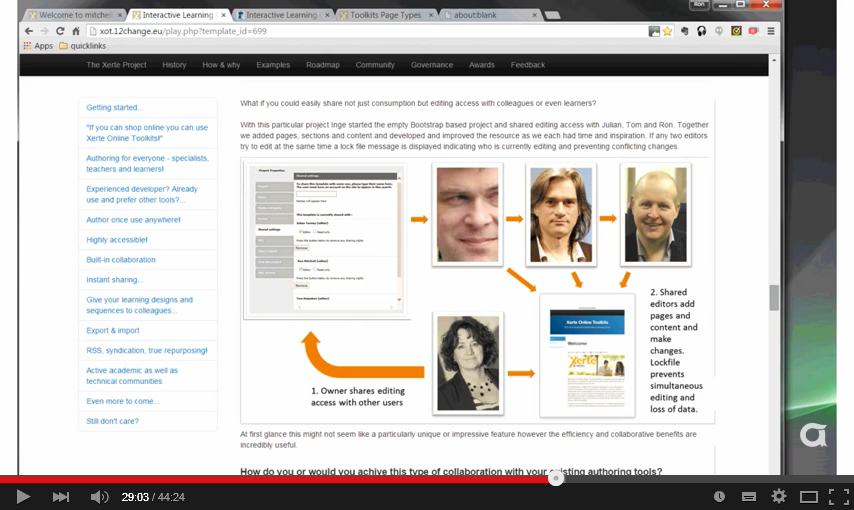 The Xerte Online Toolkits project is now in the final stages of incubation for the Apereo Foundation. As part of this process, the Xerte Team provided a webinar about the project.