Examples other sites
Nottingham RSS feed

A feed containing all the public learning objects from Xerte Online Toolkits.

Xerte examples

Bookmarks tagged Xerte examples by Ron Mitchell

YouTube video's

Xerte screencasts and related videos arround Xerte/ XOT by Ron Mitchell.
tirsdag, 21 juni 2016 17:18
Skrevet av super admin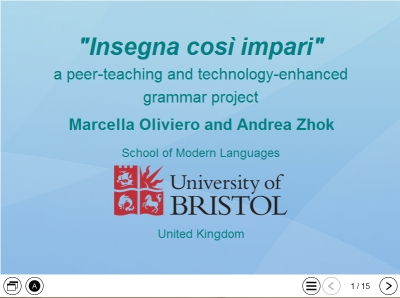 This project involves first year students of Italian in peer-teaching activities in which they are asked to teach certain grammar topics to their classmates. Working in small groups they create Xerte content objects, using several page types and including media, audio-visual materials and texts.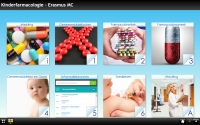 Deze e-module gaat over het voorschrijven en toedienen van geneesmiddelen aan kinderen. We geven antwoord op de vraag waarom geneesmiddelen voorschrijven bij kinderen zo moeilijk is. Veel gemaakte fouten in de kinderfarmacie komen aan bod, we gaan in op de achtergronden van doseringsverschillen, de informatiebronnen die je wel en niet kunt gebruiken en geven praktische tips voor het toedienen van geneesmiddelen aan kinderen. Doelgroep: studenten geneeskunde en farmacie
In deze module is veel gewerkt met extra html en css code waardoor bepaalde 'styling' mogelijk is.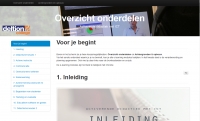 Al bijna een klassieke vraag: Hoe zorg je er voor dat (MBO)leraren bewuste keuzes gaan maken met betrekking tot de inzet van ICT in hun lessen? Keuzes die gebaseerd zijn op kennis en ervaring in plaats van onderbuikgevoelens, keuzes die de meerwaarde van ICT een plaats geven die het verdient. Op het Deltion College zetten we hiervoor vanaf dit jaar de nieuwe, in eigen beheer geproduceerde blended training 'Activerende Didactiek met ICT' (ADmICT) in. De-learning modules hiervan zijn geproduceerd met Xerte.
De training ADmICT is bedoeld om leraren bewust te maken hoe hun huidige onderwijs gebruik kan maken van ICT. Het gaat niet om nieuwe concepten, maar toepassingsmogelijkheden in de 'gewone' , reguliere lessen.
De inhoud van de blended training is gebaseerd op de Kennisbasis ICT, de einddoelen van de lerarenopleiding en bestaat uit elf e-learningonderdelen en drie workshops
In de bootstrap hebben we alle e-learningonderdelen voor de community verzameld, normaal gesproken worden ze echter stuk voor stuk in een arrangement in de elektronische leeromgeving aangeboden. In de bootstrap vind je nu dan ook alle achtergrondinformatie en links naar de bronbestanden.
Mer